Skip to Main Content
It looks like you're using Internet Explorer 11 or older. This website works best with modern browsers such as the latest versions of Chrome, Firefox, Safari, and Edge. If you continue with this browser, you may see unexpected results.
What is Zotero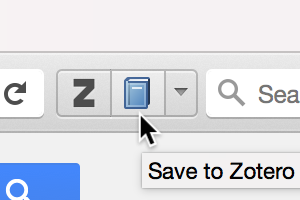 Zotero is a free, easy-to-use tool to help you collect, organize, cite, share, and analyze your research sources. It lives right where you do your work—in the web browser itself.
Downloads, Plugins & Documentation

Zotero Standalone - runs as a separate application and plugs into your choice of browser
Zotero Support & Documentation
Create a Zotero Account - allows you to sync your library, participate in groups, or post to the support forums.
Zotero Bookmarklet - The Zotero Bookmarklet is a bookmark you add to your browser to save the page you are reading to your Zotero library.
Getting stuff into Zotero